Air-Light Laminar Flow Ventilated Ceilings
The MGI Air-Light Laminar Flow Ventilated Ceiling is built by the true OT specialist, who has been serious about operation theatres for the last 30 plus years! Unlike other OT ceiling suppliers who only manufacture and sell their products, MGI designs, builds and commissions the entire OT suite. We know the requirements, and we know the difficulties, therefore we design OT ceilings to perform without compromise!
The air-light laminar flow ventilated ceiling consists of a filter chamber, a plenum box, concealed lighting, air-light diffuser section and the mounting mechanism.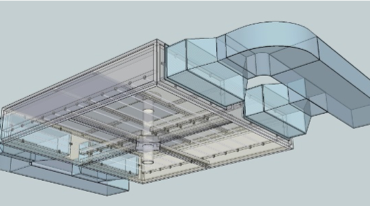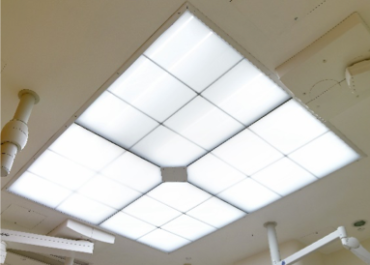 Surgi-centre Control Console
The MGI Surgi-centre Control Console is the hub of the operation theatre, incorporating controls and alarm signals for all vital medical engineering data, requiring the attention of the surgical team. The surgeon has to be updated instantly of these data for making vital decisions.
The Surgi-centre control console is of modular design, consisting of a stainless steel first fix back box, and a front fascia made up of modular control / alarm tiles. The front fascia control console is constructed from seamless one piece high quality nylon membrane, on 3mm aluminum backing panel, which is easy to clean and is sterilisable.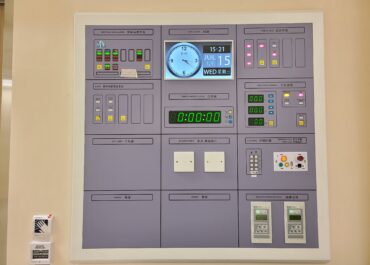 The MGI Medical E-film Console is slim build. Depending on configuration it can be built within the thickness of an existing analogue viewer.  Disruption to costly peripheral facilities such as wall control panels and lead lining can be avoided so that OT down time is minimized.
Console components are neatly concealed and seamless as far as possible, leaving no reservoirs for microbes.  Surface disinfection and cleaning shall be easy and standard.
Keyboard and mouse are anti-bacteria coated for easy cleaning and disinfection, suitable for sterile environment in operation theatres.  The PC cabinet is ventilated by internal exhaust fan housed in the room exhaust duct.  Air always flows from OT room to outside with no chance of reverse flow.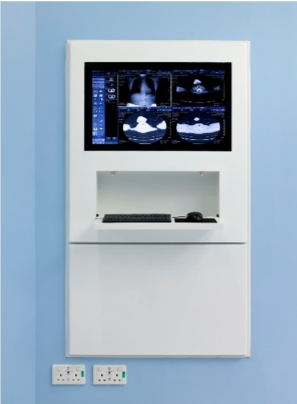 The MGI Bedhead Consoles have been specifically designed to provide an integrated solution.  They are functionally and aesthetically designed to;
Enhance safety, comfort and convenience of the patient and nursing staff.
Provide flexibility in modeling and future alteration.
Easy, speedy assembly and installation.
Aesthetically pleasing outlook and choice of colour scheme.
Per request, console complete with pre-wired electrical outlets, switches, pre-piped medical gas outlets and space for nurse call components are also available.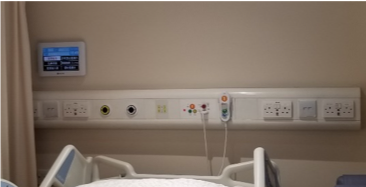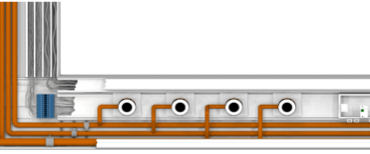 The MGI Medical Gas Area Alarm panel will display the status of up to six gases, showing up to two conditions plus NORMAL per gas.  In addition, the MS-6 area alarm will act as a slave to another MS-6 alarm within 250 metres, using a two-core screened cable.
It is designed to take signals from local pressure switches in Theatres, Ward Areas, ICU/CCU and is available for both surface and flush mounting.  The alarm system is flexible and simple to maintain. Only two printed circuit boards (PCBs) are used in the MGI MS-6 alarm thus keeping spares to a minimum.
In the event of a power failure, a reserve battery enables the system to remain in operation for up to 8 hours with only the lamps on the panel affected by the power failure, or for 4 hours if the panel is set for full backup.
The MGI AGSS Remote Control panel will display the status of the AGS system, showing up to 9 indications and system fault.
The duplex AGS plant with control panel provides active scavenging. Individual remote control panel at the designated room is used for individual on / off operation of the AGS plant.
Remote "On/Off" Switch, Running and Failed Lamps are provided.  This Remote Panel requires 9 Cores and an Earth to connect to the Plant Control Unit.
It is designed to take signals from local control panel and is available for flush mounting. 
The MGI Central Alarm Panel will display the status of up to fifteen different gas devices at the same time, showing up to five faults level plus NORMAL per gas device.
In addition, the display board can be converted into a Master display board or a Slave display board by changing the status of jumpers on the board.  
It is designed to take signals from system control panel in Plant Room, D.G. Room, and is available for both surface and flush mounting.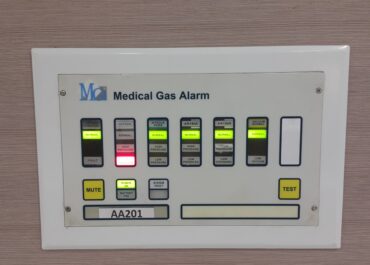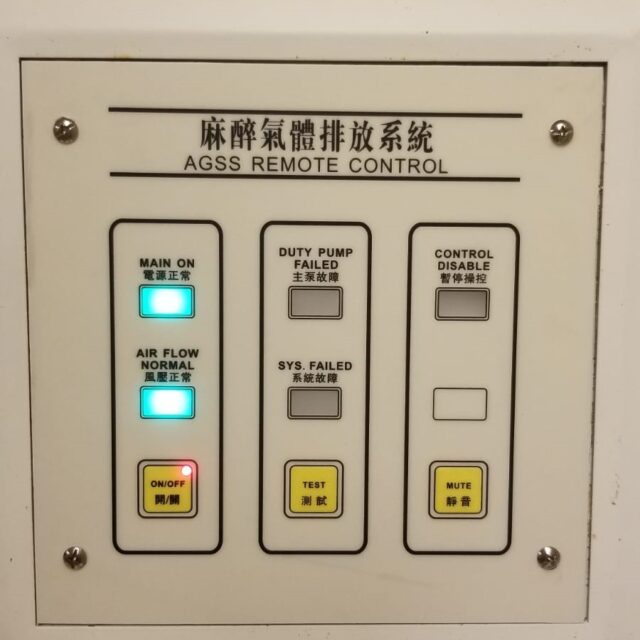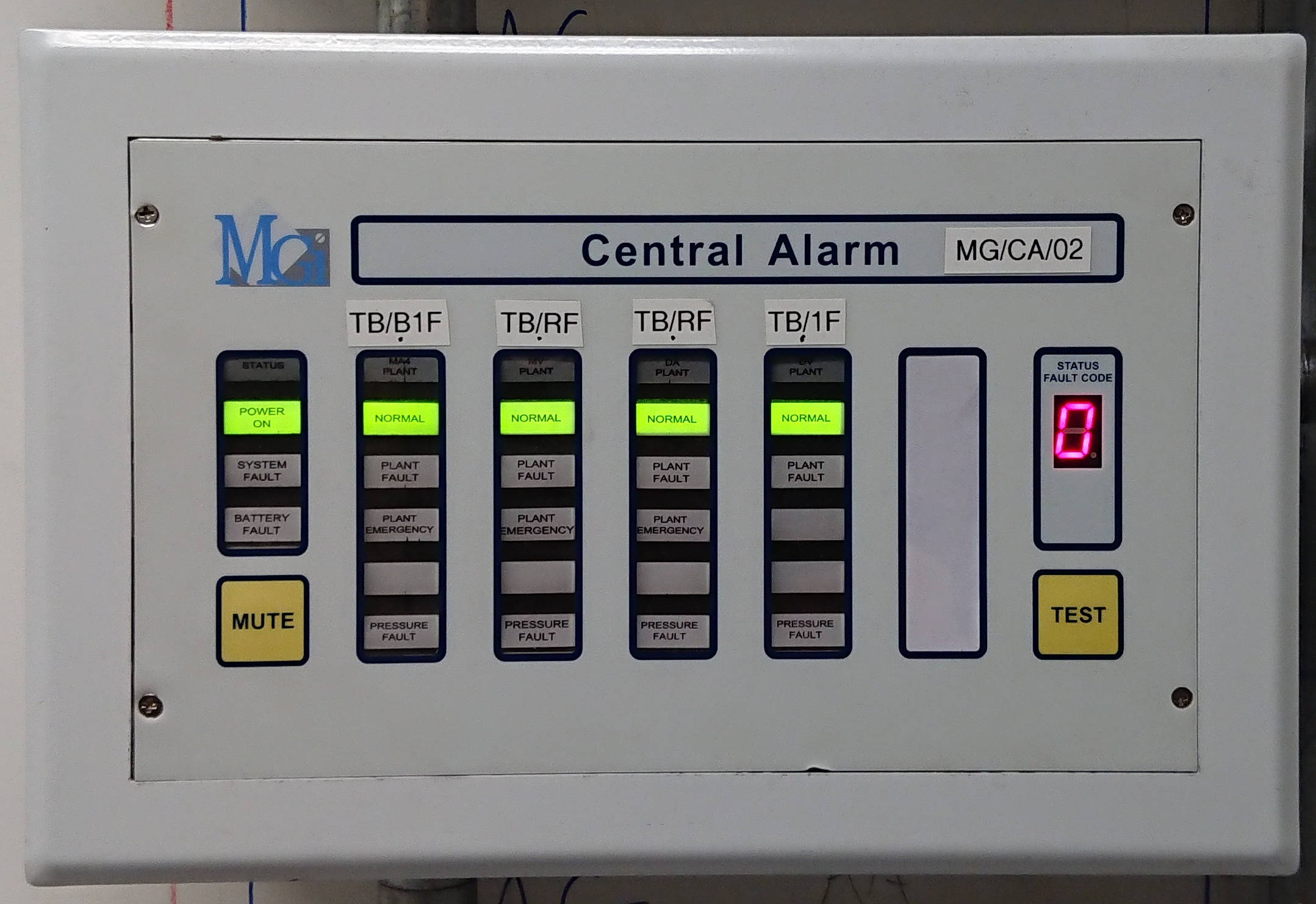 We have established stable business relationship with our major suppliers and the longest business relationship.
We are the authorized distributor of suppliers with distribution rights in Hong Kong, Macau and/or the PRC for various products used in the healthcare or laboratory setting such as laboratory furniture, fume cupboards and operating theatre pendants which are typically required for our healthcare and non-healthcare design and installation projects. These suppliers are overseas manufacturers mainly from the United Kingdom, United States, Malaysia and Germany.